Pakistani Food & Pakistani Recipes
List Of Popular Pakistani Cooking Recipes
Badam Ka Halwa Recipe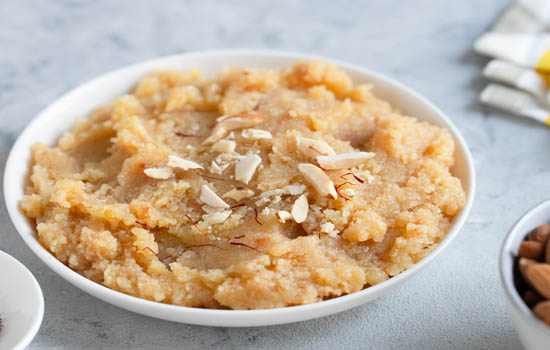 Badam Ka Halwa Ingredients
Almond paste 1 cup
Clarified butter 1 cup
Semolina 250 grams
Milk 2 cups
Sugar ½ cup
Khoya 250 grams
Almond essence 1 tsp
Almond for garnish

Badam Ka Halwa Cooking Directions
Put almonds in blender with a little water and blend to make a paste.
Melt clarified butter, add semolina and roasted until an aroma rises. Then add milk and add sugar and almond paste mix it well and stir fry.
Now add khoya, almond essence and mix it well until the clarified butter leaves the sides of pan.
Take it out in a serving platter and garnish with almonds and serve it.
Gajar Ka Halwa Recipe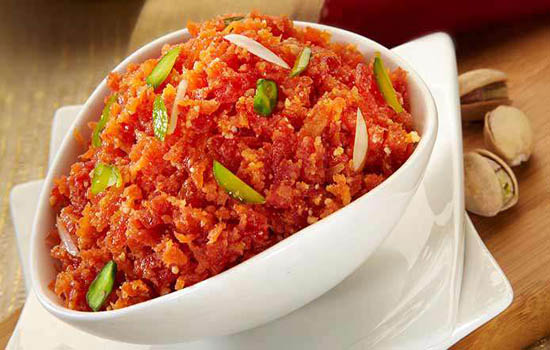 Gajar Ka Halwa Ingredients
Carrot shredded 2 kg
Milk 1 litre
Solid milk (khoya) 250 grams
Sugar 1 cup
Kewra essence few drops
Clarified butter 4 tbsp
Dry fruit as required

Gajar Ka Halwa Cooking Directions
Pour milk in a pan and cook carrot in it till milk dry.
Then add sugar in it and stir fry until sugar water dissolves.
Now add clarified butter and stir fry till butter comes on top.
Add milk solid and dry fruit in it and cook for 2-3 minutes.
Now mix kewra essence in it and dish it out.
Top with solid milk and dry fruit. Serve warm.
Egg Halwa Recipe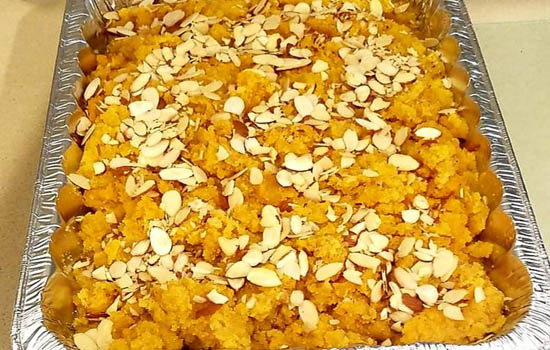 Egg Halwa Ingredients
Eggs 10-12
Milk 1 kg
Saffron 1 pinch
Yellow food color 1 pinch
Sugar 1 cup
Almonds ½ cup
Pistachio ½ cup
Few drops kewra essence
Mix seeds 1 tbsp
Crushed cardamom ½ tsp
Ghee 1-1 ½ cup
Silver leaves as required

Egg Halwa Cooking Directions

Whip the eggs in a bowl.
Now add in sugar and milk and beat again.
Heat ghee in a skillet, add cardamom and fry till the seeds begin to sizzle.
Then add the egg mixture, fry till the ghee comes on top Lower the flame and add yellow food color mixed in cold milk. Mix well.
When the aroma of the halwa is given out then add 1tbsp mixed seeds, saffron and few drops of kewra essence.
Dish out the egg halwa and garnish with almonds, pistachio and silver leaves.
Sooji Ka Halva Recipe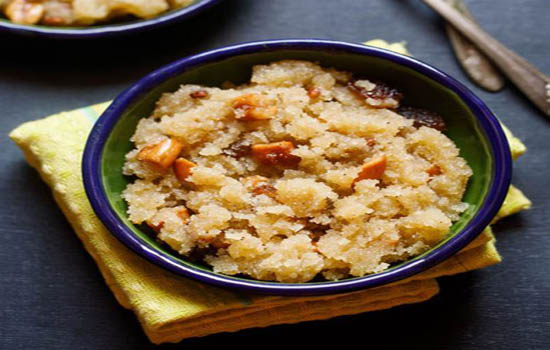 Sooji Ka Halva Ingredients
Semolina ½ cup
Sugar 1 cup
Milk ½ cup
Green cardamom powder 1 tsp
Raisins 2 tbsp
Pistachio 3 tbsp
Bay leaf 1
Nutmeg 1/8
Mace 1/8
White oil 4 tbsp
Clarified butter 2 tbsp
Water 1 - ¾ cups
Pinch of Saffron (optional)

Sooji Ka Halva Cooking Directions

Add white oil and clarified butter in a non-stick wok and put on flame.
Add bay leaf and semolina.
Fry semolina on a low flame, stirring continuously until semolina starts changing color to light brown.
Add sugar and mix well.
Fry till the semolina starts to take a light brown shade than golden brown (keep stirring continuously). (Frying will take about 10 minutes).
Add milk and immediately stir (or else the mixture will solidify and stick to the wok).
Add water and mix well.
Bring to a boil and reduce the flame.
Simmer and cook for 10 minutes or until the water is absorbed and the halva is thickened.
Add cardamom, nutmeg, mace and rest of the ghee, stir and mix and remove.
Keep the halva in the wok for 5 minutes.
Transfer to a serving bowl.
Garnish with dry fruits and sprinkle green cardamom, nutmeg and mace powder on the top of the halva.
Serve hot or cold.