Rice, Biryani, Pulao Pakistani Recipes
List Of Popular Pakistani Cooking Recipes.
Chicken Biryani Recipe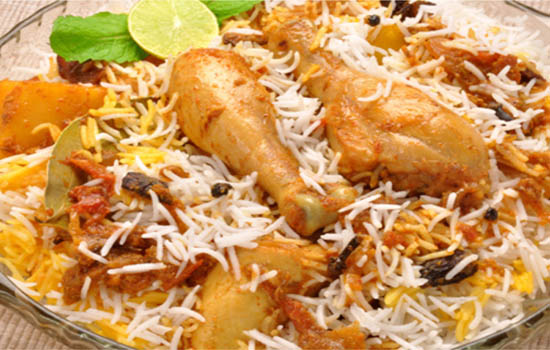 Chicken Biryani Ingredients
Chicken 1 kg (16 pieces)
Ginger garlic paste 2 tsp
Salt 1 ½ tsp
Red chili powder 2 tsp
Cinnamon 2 sticks
Black pepper corn 6
Cloves 2
Green cardamom 6
Rice ½ kg
Black cumin 1 tsp
For Yogurt Mixture
Yogurt 1 ½ cups
Yellow food color ¼ tsp
Garam masala powder 1 tsp
Ground cardamom ½ tsp
Nutmeg powder ½ tsp
Saffron ¼ tsp
Kewra water 1 tbsp
Green chilies 6
Green coriander half bunch
Mint leaves 15-20
For Temper
Oil 1 cup
Fried onion 1

Chicken Biryani Cooking Directions
In a cooking pan put 1 cup water, chicken, ginger garlic paste, salt, red chili, cinnamon sticks, black pepper corn, cloves, and green cardamom. Cover and cook until chicken is done and water dries.
In an other pan add sufficient water, black cumin, salt and boil rice until 80% done.
Drain water out of the rice.
In a bowl mix yogurt, yellow food color, garam masala powder, ground cardamom, nutmeg powder, saffron and kewra water.
Pour this yogurt mixture on chicken and spread layer of rice. Pour oil on top, sprinkle fried onion, green chilies, green coriander and mint. Simmer on low heat for 15 minutes.
Serve warm with raita.
Chinese Egg Fried Rice Recipe

Chinese Egg Fried Rice Ingredients
Basmati Rice 1 kg (washed and soaked for 20 minutes)
Eggs 4 (whisk with a pinch of yellow color)
Spring onions 1 cup (finely sliced tops or green leaves)
Carrots 3 (finely sliced)
Bell pepper 2 (finely sliced)
Garlic water/essence 2 tbsp
Soya sauce 2 tbsp
White vinegar 1 tbsp
Black pepper ½ tsp (ground)
Sugar 1 tsp
Ajinomoto ½ tsp (Chinese Salt)
Salt To taste
Cinnamon 1 piece roasted and ground
Oil 1 cup
Sesame oil a few drops

Chinese Egg Fried Rice Cooking Directions
Boil water in cooking pan then add rice, 1 tbsp salt and vinegar. Boil rice until 80% done then drain the water and simmer rice on slow heat on five minutes.
Remove rice from heat and spread in wide dish.
When you wish to serve, add the oil to a wok or pot and heat.
Add the garlic water/essence then the eggs and stir it quickly.
Add the soy sauce, black pepper, bell pepper, carrots and green onions.
Then stir fry for five minutes and add in the rice.
Add in the sugar, a bit of the soya rice and ajinomoto and toss gently with two spoons.
The Egg Fried Rice is ready. Add a few drops of sesame oil on top.
Serve with Chicken Chilies or Beef Chilies.
Masala Prawn Rice Recipe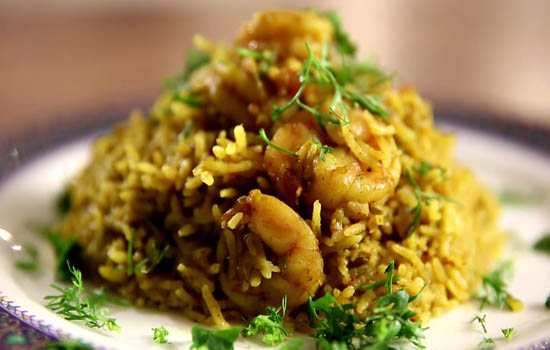 Masala Prawn Rice Ingredients
Basmati Rice ½ kg
Prawns ½ kg
Oil as required
Onion 1 cup (chopped)
Ginger garlic paste 1 tbsp
Tomato 4 (finely chopped)
Seekh kabab masala 2 tbsp
Salt to taste
Mushrooms 1 cup (chopped)
Green pea 1 cup (boiled)
Green chili 6 – 8
Lemon for garnish
Fresh coriander for garnish
Water as needed
Masala Prawn RiceCooking Directions
Heat oil add onions and fry for 2 minutes.
Add ginger garlic paste and seekh kakab masala.
Add tomatoes and let masala cook until water is dry.
Add enough water to cook rice let it come to a boil.
Add rice and salt.
Then add green chili, peas and mushrooms.
Cook until all water is absorbed and rice is cooked.
Fry prawns separately and mix with rice.
Garnish and serve.
Tikka Biryani Recipe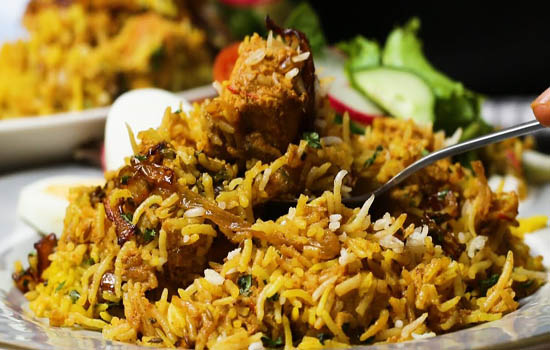 Tikka Biryani Ingredients
For Chicken marination:
Chicken 1 kg
Yogurt 1 cup
Cumin powder 1 tsp
Ginger garlic paste 2 tbsp
Tikka boti masala 2-3 tbsp
Vinegar 2 tbsp
Salt 1/2 tsp
Red chilli powder 1/2 tsp
For Rice:
Onions 4 (slices)
Sindhi biryani masala 1 packet
Tomatoes 3 (cubes)
Potatoes 2 (cut into 8 pieces)
Green chillies 6
Coriander and mint leaves as required
Chicken cubes 2
Black cumin 1 tsp
Rice 1 kg (boiled)
Yellow food color 2 pinch
Yogurt 1/2 cup
Ginger garlic paste 1 tbsp
Oil as required
Tikka Biryani Cooking Directions
Put yogurt, vinegar, salt, tikka masala, red chilli, ginger garlic and white cumin powder in chicken for marination, leave it for 1/2 -1 hour.
Then spread some oil in the baking dish put chicken in it and bake till chicken tenders and become golden brown.(bake on 200 degrees till then chicken's water dry after that bake it on 120-150 degree).
In a separate pan put some oil and cook onions in it till golden brown.
Then put ginger garlic, tomatoes and chicken cubes, cover it so that tomatoes become soft.
Then mix it well, after that add potatoes, yogurt and green chilies.
When potatoes become tender then add sindhi biryani masala, mix it well.
Remove from stove, curry is ready.
For Layers: Spread 1 layer of boiled rice, sprinkle food color, spread 1 layer of curry, spread coriander and mint leaves.
Then again spread layer of rice, food color, curry and coriander and mint leaves.
After that on the top put all the chicken pieces and spread black cumin and brown crispy onion and 2 – 3 tbsp oil.
Now cover it and let it cook for 10-15 minutes on low blaze.
After 10 minutes remove it from stove and mix it in that way that some rice are yellow, some white and some are orange.
Serve it with chill raita and salad.
Afghani Chicken Pulao Recipe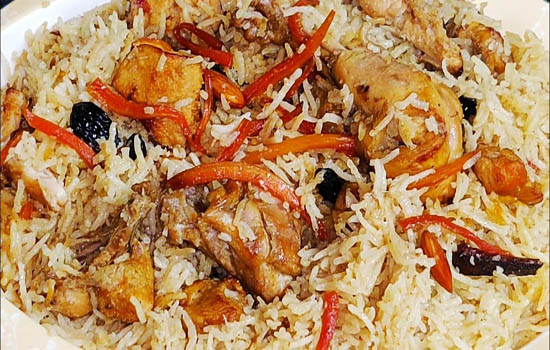 Afghani Chicken Pulao Ingredients
Whole chicken 1 ½ - 2 kg
Tomato ½ kg (chopped)
Onion 4 (chopped)
Whole black pepper 1 tsp
Ginger garlic paste 1 tbsp
Lemon 4
Salt to taste
Oil 1 cup
For Rice:
Green chili 4
Rice 4 cups
Whole black pepper 4
Black cumin 1 tsp
Salt as required

Afghani Chicken Pulao Cooking Directions
Take a pan and fry the onions till they turn golden brown.
In blender blend together the fried onions, tomato, ginger garlic paste and black pepper until a paste is formed.
Marinate the chicken with salt and lemon juice.
Deep fry it. Until it turns golden brown.
In another pan heat some oil and add the tomato paste fried chicken and salt into it.
Cook until the oil forms a separate layer on top.
Now boil 4 cups of rice in a big pan and with green chilies ,black pepper, black cumin and salt.
Strain the rice after it is almost done.
Heat oil in the same pan.
Evenly layer the cooked rice and chicken to form at least 2 sets of layers.
Lastly top the rice with the tomato mixture and squeeze some lemon juice on top.
Cover and simmer for 20 minutes.