Fish & Fast Foods Pakistani Food Recipes
List Of Popular Pakistani cooking recipes Recipes
Zinger Burger Recipe

Zinger Burger Ingredients

Chicken Breast 300 gm
White Vinegar 2 - 3 tbsp
Salt to taste
Mustard Paste 2 - 3 tbsp
Red Chili Powder 1 tsp
Garlic Powder 1 tsp
Rice Flour 1 cup
Corn Flour 1 cup
White Flour ½ cup
Chicken Powder 2 tbsp
Black Pepper Powder 1 tbsp
White Pepper Powder 1 tbsp
Baking Powder 1/3 tsp
Eggs 2 - 3
Oil for fry
Mayonnaise as required
Buns 4 - 6
Ice burg as required
Zinger Burger Cooking Directions

For Chicken: Slice chicken breast in 6 layers.
Grease a plastic bag with oil and put it in it.
Spread it with a kitchen hammer.
Transfer them in a mixing bowl, add white vinegar, salt,2 tbsp mustard paste, red chilli powder and 1/2 tsp garlic powder, mix and leave for half hour to marinate.
For Dry Mixture: In a big box, take rice flour, corn flour, white flour, chicken powder, black pepper powder, white pepper powder, baking powder, ½ tsp garlic powder and salt and mix them very well.
For Crispy Chicken: In a bowl beat eggs.
Coat the marinated chicken first with dry mixture and then dip them in eggs and again repeat this process.
Deep fry these pieces in oil.
For Sauce: In a bowl take ½ cup mayonnaise and 1 tbsp mustard paste and mix them well.
Final Touch: Spread sauce on the bun and put chicken piece on it.
Again put sauce on it and then put lettuce or iceberg over it and place the other half of the bun.
Ready to serve hot.
Fish Burger Recipe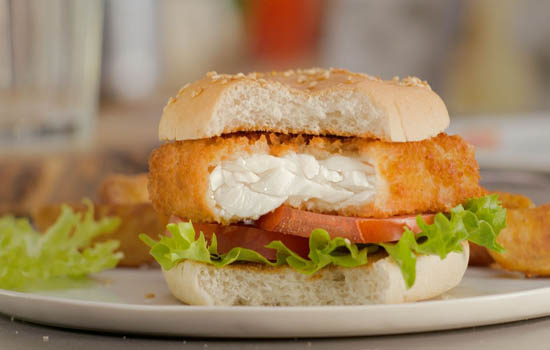 Fish Burger Ingredients
Fish boneless 300 gm
Eggs 2
Buns 4
Corn flour 1 cup
Bread crumbs 1 cup
Mayonnaise ½ cup
Red chili powder ½ tsp or to taste
Crushed black pepper ½ tsp or to taste
Mustard paste 2 tbsp
White vinegar 2-3 tbsp
Ice-berg or lettuce leaves for garnishing
Oil for frying
Salt to taste
Fish Burger Cooking Directions

Cut fish into circular shape pieces.
Then marinate the fish pieces with vinegar, salt to taste, crushed black pepper and red chili powder.
Coat the fish pieces with corn flour, dip in beaten egg and then coat with breadcrumbs pressing gently.
Now deep fry the fish pieces till golden and take out on absorbent paper.
Cut the buns in half, spread mayonnaise and mustard paste on them.
Top with ice-berg or lettuce leaves then top with fish piece.
Now top with other piece of bun and serve.
Chicken Burger Recipe

Chicken Burger Ingredients

Chicken 500 grams
Egg 1
Bread 2 slices
Bread crumbs 2 tbsp
Mustard paste 1 tsp
Black pepper powder 1 tsp
White pepper powder ½ tsp
margarine ½ cup
Bun 4
Onion 2 tbsp
Carrot 1
Cabbage 2 tbsp
Ketchup 1 cup
Oil for fry
Chicken Burger Cooking Directions

In a mixing bowl add minced chicken, bread slices, salt, black pepper, white pepper, egg and chopped onions.
Mix well and shape the chicken mixture into 4 patties.
Fry in a frying pan till the patties turn golden brown in color.
Now take a sliced bun and spread a little margarine on both the bun halves.
Add a lettuce leaf, some sliced carrots and finally a burger patty.
Cover with the other bun slice.
Repeat steps with the remaining burgers and buns.
Beef Burger Recipe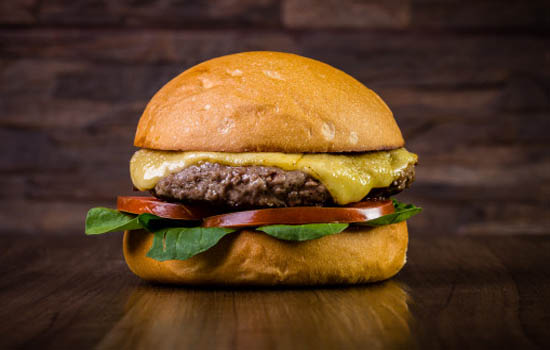 Beef Burger Ingredients
Egg 1
Mayonnaise 1/2 cup
Potatoes, boiled 2
Meat, minced 200 gms
Cucumber slices
Onion rings
Oil for frying
Salad leaves
Salt and pepper to taste

Beef Burger Cooking Directions

Boil the meat with salt and pepper, mix mashed potatoes and egg in it.
Make kebabs and fry them from both sides until well done.
Cut the bun in half and spread mayonnaise.
Place kebab, onion rings, a cucumber slice and salad leaf on the bun.
Cover it with the other half.
Serve with ketchup and French fries.
Bun Kabab Recipe

Bun Kabab Ingredients

Bun 6
Chapli kabab 6
Onion 3
Tomato 3
Fresh hot milk ½ cup
Mayonnaise ½ cup
For Tamarind Chutni:
Tamarind 125 gm
Hot water 1 cup
Onion seeds 2 tbsp
Red chili powder ½ tsp
White pepper 1 tbsp
Black salt 1 pinch
Salt as required
Bun Kabab Cooking Directions

First take out the soaked tamarind from water and put it in a pan and add onion seeds, cumin and red chili to cook.
After cooking take it out and add salt and black salt.
Now grease the bun and toast it on grill pan.
After that put a table spoon of milk on bun and spread mayonnaise on it.
Then place fried chapli kabab on it and spread tamarind paste and onion tomato slice and cover it.